Hair Specialist Doctor Near Me In Bedford, Texas
Hair Loss Cure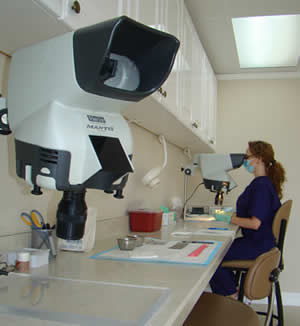 Unfortunately, there is no hair loss cure, yet.  For those of you who are curious about this topic, the real question should be: "when will there be a hair loss cure", not "if there is a hair loss cure".  It is only a matter of time.  Science and technology are rapidly impacting the hair loss field.  Scientists are working now to clone hair cells and eliminate the need for the current method of cutting tissue from the donor area. When the method of cell replication or cloning becomes available, it will open up tremendous opportunities for those who have suffered from hair loss.
As this future technology becomes a reality, it remains to be seen who will have access to the latest changes in medicine and science and how much are they willing to pay for a true hair loss cure.
Most experts agree that a hair loss cure could become available in the next five to ten years. Until then, the closest thing to a hair transplant cure is a hair transplant.
If you need a prescription or have questions about getting a hair transplant, you can call our toll free number at 954.567.5868 and one of our staff members will be happy to speak with you.
COMPILATION GALLERY VIDEOS
May 5, 2021

Dr. Bolton and Josh are extremely professional and communicative. I have been dealing with both of them for many years and looking forward to maintain the relationship moving forward. The offices are great and the environment and professionalism makes me feel very comfortable every time I visit them.

May 3, 2021

Great Hair Transplants is THE place to get the best hair transplant. I had my procedure a little less than two years ago. Now, it's like night and day! The results speak for themselves. The procedure is painless and goes smoothly. A hair transplant at GHT helps bring positive change in life. No doubt! Dr. Bolton is a very professional,...

Apr 21, 2021

I want to start off first by giving a huge thanks to Dr. Bolton along with Josh and the entire GHT team! I can't thank you enough and put into words how much it means to me for what you have done to help my situation. What you do for people is such a great thing, truly the best in the business at this. I'm 26 years old I started losing my hair...

Jan 20, 2021

My confidence was shot; I always wore a hat when I went out in public and did not want to date because I was afraid the ladies would want to run their slender fingers through my slender hair. But that was before I met Hair Doctor Extraordinaire, Brett Bolton. He changed my hairline and it changed my life. I opted for the "Max Harvest" technique...

Jan 14, 2021

brett is hands down the best there is. i am a retired ER doc and had my first transplant nov 2018 with excellent results. i went back nov 19 for a repeat - you cannot cover a vacant lot with one load of sod - and now i have a full lawn. No one can do this kind of miracle except Brett and his full laen crew

Dec 24, 2020

I chose Dr. Bolton because of his excellent reputation. He did a great job. No pain. Easy recovery and I'm very pleased with my results. He filled in my receding hairline and crown. VERY natural looking hairline. He treats each hair follicle like it's his own baby and that's what makes for graft survival and great results. Great job. Thanks Dr. B!

Nov 4, 2020

It has been about 4 months since my visit and procedure with Doctor Bolton,and i must say i am very satisfied with results so far.. I am a 32 year old male,and for the past 3 years or so i noticed my hair becoming much thinner and weaker... And after so many failed attempts,remedies and false information,i finally came to realisation that hair...

Oct 2, 2020

I came to Dr. Bolton from Tampa, FL, and I would not regret it. I am 19 years old, and was very anxious and scared at first, but Dr. Bolton and his team made it very comfortable for me during the surgery. I am 4 months in and am already very happy for the results. He is one of the best in the business. Would definitely recommend him.

Sep 7, 2020

I am more than happy with the procedure I had with Dr. Bolton a few days ago. This is my third hair transplant and my only regret is that he didn't do the first two. He and his staff are extremely professional and accommodating, creating a very comfortable environment. I would highly recommend using Dr. Bolton. With Dr. Bolton's procedure, I...

Aug 31, 2020

Went in on June 2019 and I am now enjoying the fact that I never have to wear a hat ever again! Toons of compliments from co-workers, friends and family telling me that my hair looks longer or my hair is growing. Definitely a life changing procedure. Very helpful staff. Dr. Bolton and Josh are the greatest. They help you with everything. I wouldn't...


22 YEARS EXCLUSIVELY DEDICATED TO HAIR TRANSPLANTS WITH UNSURPASSED RESULTS
Excellent