Amazing Hair Transplant Results In Napa, California
We are please to offer the best in hair implants to the residents of the following cities in Cherokee County, Alabama:
Cedar Bluff
Centre
Collinsville
Gaylesville
Leesburg

Piedmont
Sand Rock

If you are a man or woman living with hair loss in Alabama, we know finding a good hair transplant surgeon can be arduous. That's why Dr. Brett Bolton, founder and Medical Director of GreatHairTransplants.com is making it easy. With up to $1500 off the hair surgery price and great hotel discounts, having hair surgery in South Florida is affordable! PLEASE NOTE: Patients must provide travel receipts to be reimbursed!Dr. Brett Bolton's signature hair restoration procedure called MaxHavest gives the patient twice the hair for half the cost.
For Alabama residents interested in hair implants, they can either drive or fly out from Montgomery Regional Airport or Birmingham-Shuttlesworth International Airport. Hair Transplant surgery is a simple out-patient procedure that lasts 4-5 hours and the patient can even fly home the same day or stay a few days and enjoy a vacation in sunny South Florida. The choice is yours!
Driving Directions: If driving is the preferred mode of travel, take I-75 South to the Ronald Reagan Turnpike. Take exit 62 to Commercial Blvd. Go East to US 1 and make a right going south. The office for GreatHairTransplants.com is on the left.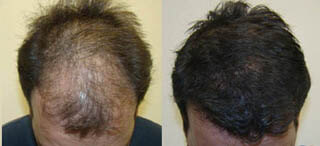 COMPILATION GALLERY VIDEOS
Feb 22, 2020

Dr. Bolton did an amazing job! I did my research and found Dr. Bolton and am so glad I did. I have had 2 procedures done by him. The first restored my hairline and the second I wanted for more density. Thank you Dr. Bolton! Also thank you to Mike Anticoli for his help throughout the entire process. He stayed in touch with me before and after my...

Feb 14, 2020

I can't believe how much Dr Bolton has changed my life. Josh brought me in and explained everything and how this can improve my life Him and his team are the best in the there field. If you're looking for a change don't go anywhere else - give Josh a call and go see Dr Bolton.

Feb 14, 2020

Dr. Brett Bolton is a total Genius Five years ago I went in for my first hair transplant with Dr. Bolton, and had great success. I planned on returning the following year to continue but do to new employment I was unable to continue. Now, 5 years later, I returned to Dr. Bolton with even better success. Aside from experiencing only a very small...

Feb 12, 2020

I heard about Dr Bolton from a friend. My first visit I met Josh who manages the office and then Dr Bolton. I was impressed and felt he was my guy. The procedure was painless. I was bald at the crown area on June 2019. Today I have a full head of hair. Dr Bolton and his staff planted 10,000 babies If you have any questions feel free to contact me....

Jan 21, 2020

I had my procedure about four months ago and the results have already begun to show. The procedure was very comfortable, though I was nervous at first, and I actually fell asleep at one point watching TV. Dr. Bolton, Michael, and the rest of team were very attentive, informative, and straightforward and were happy to answer any questions I had...

Jan 16, 2020

I would highly recommend Dr Bolton if you are suffering from hair loss. Everything from initial discussions with Josh Engoren through to after care and support it is an impeccable service. Both Dr Bolton and Josh were very polite and supportive and made me feel relaxed throughout the whole process. The staff helping with the procedure were all very...

Jan 9, 2020

Everyone is always looking to have Great Hair. Great Hair Transplants, definitely is the place to put to the top of your list. Hands Down!! I did an extensive amount of research and came to the conclusion Dr. Bolton's office was the place for me. If you want to talk about being nervous, and scared, my wheels were turning. After Speaking with Mike...

Dec 25, 2019

I found Dr. Bolton's crew incredibly professional! Mike confidently answered all my questions weeks before the procedure, and Dr. Bolton's expertise was clear from the start. All the staff were supportive from beginning to end and confirmed in my mind my choice of surgeons. My results were fantastic. I highly recommend this team to others.

Dec 25, 2019

I had been watching Dr Bolton's videos on Youtube and also on the Great Hair Transplants website for a few years. The procedure videos, before and after photos as well as the many testimonials of his other patients were so incredible to watch, I knew immediately that this was the doctor for me. I contacted Dr. Bolton's office and spoke to his...


22 YEARS EXCLUSIVELY DEDICATED TO HAIR TRANSPLANTS WITH UNSURPASSED RESULTS
Excellent