What is the Purpose of a MicroGraft?
This elderly man has a horseshoe of
healthy gray hair in the back of his

head because those hair follicles are resistant
to dihydrotestosterone, a hormone that

causes hair loss.
A micrograft is a small graft of tissue containing a single hair taken from a thin strip of tissue in the patient's donor area which is located in the back of the head.
The follicles in the back of the head are genetically preprogrammed to be resistant to dihydrotestosterone, a hormone that causes hair loss. That is why elderly balding men typically have a healthy horseshoe of hair on the back of their head.
Many years ago, hair grafts were harvested with a punch biopsy instrument. These grafts were rather large and contained as many as 25 hairs. When transplanted to the patient's frontal hairline, they looked like 'doll plugs' hence the term 'plugs' (see pictures below).
As hair transplantation technology advances, doctors now have the ability to harvest single hair grafts or 'micrografts' which are used to create a natural looking frontal hairline and crown. Powerful magnification allows doctors and technicians to manipulate the smallest graft sizes which results in a hair transplant that is natural looking and virtually undetectable.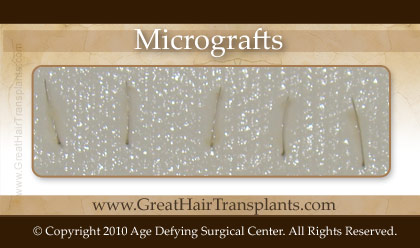 Correction of a Bad Hair Transplant using Micrografts
Large grafts containing multiple hairs in the frontal hairline is old technology. They are easily recognizable and look "pluggy" and unnatural. Single hair grafts stratigically placed in the frontal hairline and throughout the head insure that the hair transplant looks completely natural and undetectable.