Best Fue Doctors For Men And Women In Albuquerque, New Mexico
What is the Purpose of a MicroGraft?
This elderly man has a horseshoe of
healthy gray hair in the back of his

head because those hair follicles are resistant
to dihydrotestosterone, a hormone that

causes hair loss.
A micrograft is a small graft of tissue containing a single hair taken from a thin strip of tissue in the patient's donor area which is located in the back of the head.
The follicles in the back of the head are genetically preprogrammed to be resistant to dihydrotestosterone, a hormone that causes hair loss. That is why elderly balding men typically have a healthy horseshoe of hair on the back of their head.
Many years ago, hair grafts were harvested with a punch biopsy instrument. These grafts were rather large and contained as many as 25 hairs. When transplanted to the patient's frontal hairline, they looked like 'doll plugs' hence the term 'plugs' (see pictures below).
As hair transplantation technology advances, doctors now have the ability to harvest single hair grafts or 'micrografts' which are used to create a natural looking frontal hairline and crown. Powerful magnification allows doctors and technicians to manipulate the smallest graft sizes which results in a hair transplant that is natural looking and virtually undetectable.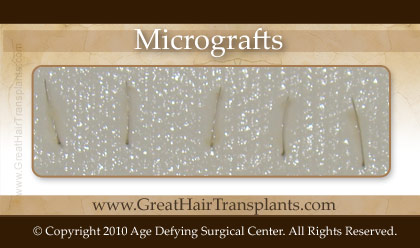 Correction of a Bad Hair Transplant using Micrografts
Large grafts containing multiple hairs in the frontal hairline is old technology. They are easily recognizable and look "pluggy" and unnatural. Single hair grafts stratigically placed in the frontal hairline and throughout the head insure that the hair transplant looks completely natural and undetectable.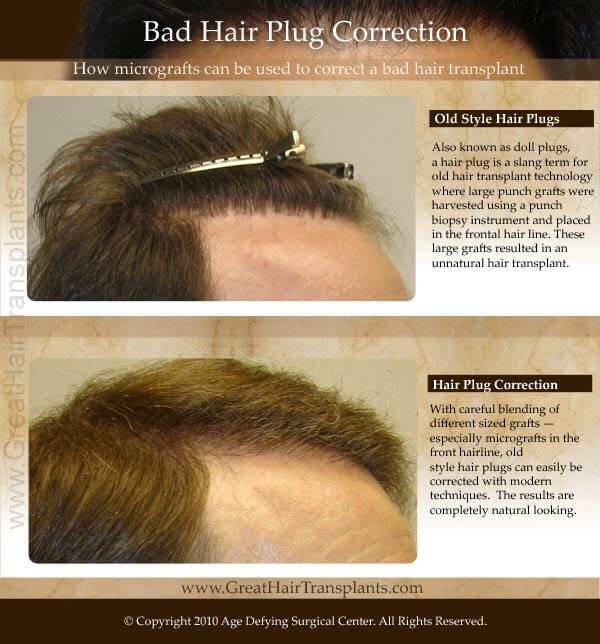 COMPILATION GALLERY VIDEOS
Jan 20, 2021

My confidence was shot; I always wore a hat when I went out in public and did not want to date because I was afraid the ladies would want to run their slender fingers through my slender hair. But that was before I met Hair Doctor Extraordinaire, Brett Bolton. He changed my hairline and it changed my life. I opted for the "Max Harvest" technique...

Jan 14, 2021

brett is hands down the best there is. i am a retired ER doc and had my first transplant nov 2018 with excellent results. i went back nov 19 for a repeat - you cannot cover a vacant lot with one load of sod - and now i have a full lawn. No one can do this kind of miracle except Brett and his full laen crew

Dec 24, 2020

I chose Dr. Bolton because of his excellent reputation. He did a great job. No pain. Easy recovery and I'm very pleased with my results. He filled in my receding hairline and crown. VERY natural looking hairline. He treats each hair follicle like it's his own baby and that's what makes for graft survival and great results. Great job. Thanks Dr. B!

Nov 4, 2020

It has been about 4 months since my visit and procedure with Doctor Bolton,and i must say i am very satisfied with results so far.. I am a 32 year old male,and for the past 3 years or so i noticed my hair becoming much thinner and weaker... And after so many failed attempts,remedies and false information,i finally came to realisation that hair...

Oct 2, 2020

I came to Dr. Bolton from Tampa, FL, and I would not regret it. I am 19 years old, and was very anxious and scared at first, but Dr. Bolton and his team made it very comfortable for me during the surgery. I am 4 months in and am already very happy for the results. He is one of the best in the business. Would definitely recommend him.

Sep 7, 2020

I am more than happy with the procedure I had with Dr. Bolton a few days ago. This is my third hair transplant and my only regret is that he didn't do the first two. He and his staff are extremely professional and accommodating, creating a very comfortable environment. I would highly recommend using Dr. Bolton. With Dr. Bolton's procedure, I...

Aug 31, 2020

Went in on June 2019 and I am now enjoying the fact that I never have to wear a hat ever again! Toons of compliments from co-workers, friends and family telling me that my hair looks longer or my hair is growing. Definitely a life changing procedure. Very helpful staff. Dr. Bolton and Josh are the greatest. They help you with everything. I wouldn't...

Aug 3, 2020

Very professional and happy with the results. I was impressed to learn that the only thing Dr Bolton does is hair transplants and only 1 per day!! You get his FULL ATTENTION for that whole day and procedure. He made me the VIP and studied my male pattern baldness for my best results. Very detailed where to cut, place hair and angles for front...

Aug 3, 2020

Have been receding since a teenager. At the age of 23, I scheduled a last minute procedure with Bolton and extremely happy with the result (8,000 hairs moved). I am only at 4.5mos post-op (Full results are typically at 12mos). Josh was my patient advisor and provided me with realistic expectations and answered all of my questions. Procedure is...


22 YEARS EXCLUSIVELY DEDICATED TO HAIR TRANSPLANTS WITH UNSURPASSED RESULTS
Excellent