Hair Transplants Equipment - Unique Advanced Hair Transplant Techniques by Dr. Brett Bolton
Spotlight on Equipment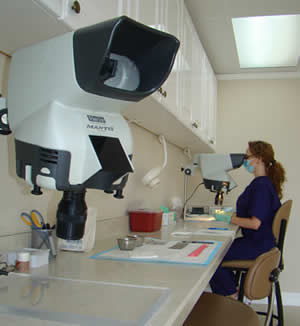 There are several major components that make a hair transplant surgery successful. There are however, two key features used at Great Hair Transplants that are important to feature.
State-of-the-Art Microscopes
It's imperative that each graft is precisely cut to insure the health of the hairs and the success of the transplant. That's why our technicians use microscopes to prepare hair grafts for the restoration process. Each graft is carefully separated under strong magnification to insure that the hair follicle roots are not nipped or damaged in any way. Carefully separating the grafts also guarantee that there is the right amount of tissue surrounding each delicate hair follicle.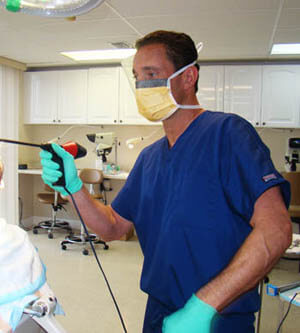 Infrared Coagulator Facilitates Better Cleaner Closure
Dr. Bolton uses a Redfield Infrared Coagulator which is a special cautery machine that uses infrared light technology to seal vessels and control bleeding without causing surrounding structural damage to the skin or follicles.
A regular cauterization machine alone can cause burning of the skin and destruction of the hair follicles which affects the overall outcome of the scar and transplant.
By choosing to use an infrared coagulator, Dr. Bolton ensures the very best closures for his patients by keeping the surrounding tissues and vessels in tact which makes a huge difference in the success of a better closure of the wound edges.
COMPILATION GALLERY VIDEOS
Apr 21, 2022

I was apprehensive going into this but I'm glad I did it! I live in CT near New York City and there are a few places in NYC with good reputations that I had looked into for hair restoration but in the end it was Dr. Bolton that I chose. I had to travel to get the procedure done but I'm completely thrilled with results. Dr. Bolton is great! He...

Apr 8, 2022

Great experience and results! Dr. Bolton and staff are amazing! If you are thinking about getting a hair transplant don't go anywhere else. Dr. Bolton will give honest expectations and outstanding results. His whole team is great and I couldn't be happier with my results. I have had a procedure with Bosley and Dr. Bolton blew them away with the...

Mar 30, 2022

My experience with Dr. Bolton and his staff was excellent. I initially had contact with Mike Anticoli who answered many questions I had about my condition and the possible treatment options. Mike was great from start to even today, months after treatment. They both did follow up calls to me after the procedure. Mike was in contact with me daily for...

Mar 23, 2022

So far, so good! Had my hair transplant last October. Been in contact with Josh, Dr. Bolton's correspondent, since day 1. Can't recommend either of them highly enough. I'm currently only at 5 months but my hairline has already dramatically improved and I'm seeing lots of new hairs popping up. I'll keep everyone updated as the months progress. I'...

Mar 23, 2022

I had a Max harvest plus procedure with Dr Bolton in October 2020. I had anxiety about the strip being taken out before the procedure, but I can confirm that it does not hurt whatsoever. Dr. B is highly skilled with the scalpel and uses a perfect amount of local anesthetic so there is no discomfort at all when the strip is being taken out. Dr B...

Mar 21, 2022

First let me start off by saying getting a hair transplant is not something anyone should be ashamed of male or female. This like any cosmetic surgery is to help with your self esteem and at the end of the day that's all that matters not someone else's opinion. When you do decide to go on that adventure, please do your research and consider Dr....

Mar 21, 2022

My experience with Dr. Bolton and his staff second to none…. If you're thinking of doing what I did and you're on the fence about it get off the fence I've done all the legwork for you go see Dr. Bolton he's going to change your life like he changed mine… exceeded all my expectations ..he's staff is very professional you are there for the day and...

Mar 17, 2022

I flew from Montreal (Canada) to have the surgery. Let me tell you that the service was excellent and the surgery went extremely well. The surgery occurred on May first of 2019 (approx. 6000 hairs to lower my hair line). I will post pictures in six months. I've had an excellent service from the whole team. Dr. Bolton and josh gave me their personal...

Mar 7, 2022

The results speak for themselves - absolutely uncanny. Like many others, I was naturally a skeptic of hair transplants and the results they could provide. I had already undergone a FUE transplant (not recommended) elsewhere a couple years earlier and did not obtain the results I was hoping for. So, of course, my skepticism was even higher than...

Feb 14, 2022

I had a hair transplant with Bosley in New Orleans four years ago. As you can see from the before photos, it wasn't a huge success. I had significantly less hair after a year than I had before the procedure. Dr. Bolton's name and a glowing recommendation from my hairstylist were given to me last year. I took a risk, scheduled an appointment,...


25 YEARS

EXCLUSIVELY DEDICATED TO HAIR TRANSPLANTS WITH UNSURPASSED RESULTS

Excellent