Spotlight on Equipment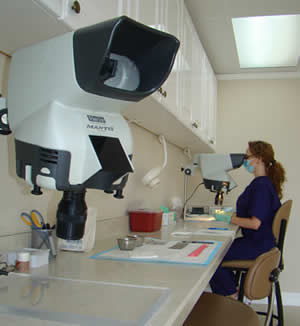 There are several major components that make a hair transplant surgery successful. There are however, two key features used at Great Hair Transplants that are important to feature.
State-of-the-Art Microscopes
It's imperative that each graft is precisely cut to insure the health of the hairs and the success of the transplant. That's why our technicians use microscopes to prepare hair grafts for the restoration process. Each graft is carefully separated under strong magnification to insure that the hair follicle roots are not nipped or damaged in any way. Carefully separating the grafts also guarantee that there is the right amount of tissue surrounding each delicate hair follicle.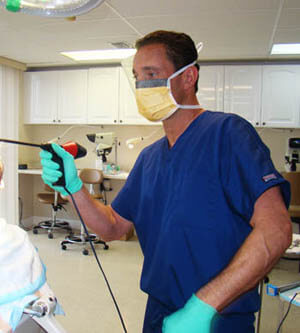 Infrared Coagulator Facilitates Better Cleaner Closure
Dr. Bolton uses a Redfield Infrared Coagulator which is a special cautery machine that uses infrared light technology to seal vessels and control bleeding without causing surrounding structural damage to the skin or follicles.
A regular cauterization machine alone can cause burning of the skin and destruction of the hair follicles which affects the overall outcome of the scar and transplant.
By choosing to use an infrared coagulator, Dr. Bolton ensures the very best closures for his patients by keeping the surrounding tissues and vessels in tact which makes a huge difference in the success of a better closure of the wound edges.