Rogaine is ONLY for the Crown Area
As of today, Rogaine is the only topical brand of medication FDA approved to be used to regrow hair in both men and women. Most people are familiar with the product name due to over 20 years of globally recognized results being broadcasted in many countries around the world. It is most specifically used for the prevention and reversal of hereditary hair loss in the crown area only. With recent studies showing 85% of men showing hair regrowth after 4 months of Rogaine foam use, this product will likely be used world-wide for many more years.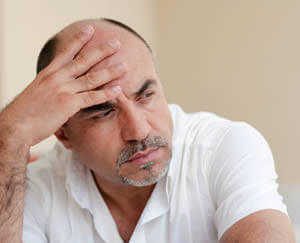 Rogaine will not help those with a receding hairline or more serious hair loss.
What ingredient in Rogaine helps with the treatment receding hairline process?
The active ingredient in Rogaine is Minoxidil, which works to revitalize follicles and stimulate hair growth in the crown area. The capabilities of Minoxidil weren't fully realized until the 1980s when scientists were actually studying it for other purposes. When it showed signs of regrowing hair, it became a worldwide phenomenon.
Who is the ideal Rogaine patient who is seeking treatment receding hairline products?
Patients who have family members who have also experienced hair loss in the crown area only.
Patients who begin to notice more excessive hair loss in the shower, while sleeping or while brushing their hair.
Patients who notice the crown of the head or scalp is more visible.
Patients who are trying to cover up hair loss in their crown area with a hair piece or new hairstyle.
How do you use Rogaine for the treatment of receding hairlines?
The newest formula from Rogaine is their Rogaine Foam product. This new formula makes the application process extremely easy. Each morning, the patient should part the hair into one or more rows (maximizing the exposure of the scalp). They then should rinse their hands with cold water and dry them. Next, the patient should hold the can of foam upside down and using the nozzle, dispense a half-filled cap full of foam on their fingers. With their fingers, the patient can then spread the foam over the thinning hair areas, massage it into the scalp areas and wash their hands. In the evening, the process should be repeated. Rogaine is also sold in liquid form, in regular strength and in extra strength versions.
For more information on treatment receding hairline products like Rogaine or hair transplant options, Dr. Bolton's staff would be happy to assist you.