How did Dr. Bolton Develop the MaxHarvest™ Hair Transplant?
In the late 90's Dr. Bolton was new to his Tennessee practice in Nashville. On the timeline of hair transplant technology it was a golden opportunity for this ambitious young surgeon. A wide variety of old techniques like hair plugs, [SEE PICTURES ON RIGHT] punch grafts and flap surgeries were on their way out and new FUT methods were cresting the horizon. Dr. Bolton had the unique advantage to observe old and new surgical methods. He corrected a large number of unnatural looking bad transplants done by other clinics with new FUT techniques.
Understanding the difference between old and new techniques
Many of the old surgeries were a result of large hair plugs which contained anywhere from 8-20 hairs harvested with a punch biopsy instrument. Sometimes as large as 4mm in diameter, these grafts were punched out in a circular shape which guaranteed an unnatural 'doll plug' look. Because of this plugginess, doctors were eager to move away from large grafts and embrace the new FUT methods. By the turn of the century many surgeons refused to transplant anything larger than a follicular unit which contained no more than 1-4 hairs or 1 follicular unit.
Dr. Bolton is Not Conventional, Which Means More Hair for Patients
On the flip side of Dr. Bolton's observations, he also considered the handiwork of highly skilled surgeons such as the late Dr. Constantine Chambers who made the most of old style techniques. As a true hair restoration pioneer, Dr. Chambers did wonders with larger grafts, especially in the crown area. After observing his work, this changed the direction of Dr. Bolton's practice forever. He became convinced that using FUT methods alone would not be enough to give new patients the kind of density he felt they should have. He wasn't about to discard valuable ideas that could potentially help patients for the sake of conformity among peers especially if it meant less hair for patients. He also knew that he could not use the old punch graft harvesting methods. That's when Dr. Bolton began to use what he calls "multiple follicular unit grafts" or "Bolton Bundles™".
Dr. Bolton Blazes a New Trail for the Most Effective Hair Transplant
Harvested and separated under microscope just like the follicular unit graft, Bolton Bundles are slit grafts that are slightly larger than its follicular unit counterpart. Containing not 1 but 2-3 follicular units this graft has double or triple the hair density with 4-8 hairs. When strategically placed behind the hairline and mixed with follicular units and micrografts (1 hair grafts), this multi-unit graft is the answer to the higher density issue.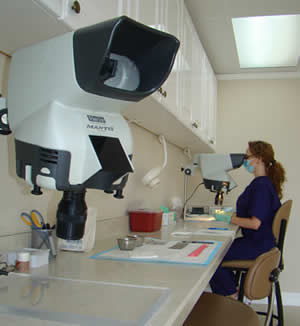 The Best of Both Worlds
Being a slit graft, Bolton Bundles are resilient enough to be packed in tightly without robbing the available blood supply of neighboring grafts. Separated under microscope, the edges of delicate hair follicles are not damaged like that of the old style punch grafts. The overall appearance is more natural looking because the bundles are transplanted as one naturally occurring unit instead of being separated and then transplanted a single follicle at a time. In 2002, Dr. Bolton co-developed Multi-Unit Hair Grafting™ for PAI Medical Group in his Tennessee office which is a technique that combines these unique graft sizes for the best natural looking results.
While most doctors would like to see you pay more money and come back for more surgeries, Dr. Bolton would rather see you get more hair in one session. That's why He developed the MaxHarvest™ Hair Transplant...
Combined with the development of Bolton Bundles, Dr. Bolton deviated from mainstream hair surgeries to develop the MaxHarvest™ Hair Transplant.
A MaxHarvest™ Hair Transplant is a specialized hair restoration surgery which incorporates a distinctive harvesting technique that safely extracts the maximum number of hairs possible based on the individual's scalp elasticity and donor area condition. Unlike all other conventional hair transplant procedures, this unparalleled formula insures that each patient has the best opportunity to yield maximum results based on their individual variables in just one procedure.
We DON'T Count Grafts. We Just Give You More Hair!
See amazing results for yourself. View our patient testimonials on video and look at our before and after photos. When you make an appointment for a free consultation chances are you will meet other patients returning for their 4 month or 1 year follow up appointments. We also have a long list of patient referrals so you can speak to someone who has already experienced Dr. Bolton's amazing hair restoration.
More Hair...Less Surgeries... Less out of Pocket Expense
More hair means less surgeries and less cost for patients. That might not be popular among hair surgeons but for Dr. Bolton, it is the only way to do surgery.