Affordable Hair Transplant & Hair Restoration In Lakewood, Ohio
Click on Image
Below to see Video
Different Forms of Alopecia: The Causes of Hair Loss
There are many types of hair loss. The most common cause is genetic hair loss inherited from a a male or female relative on either side of the family. Other causes include disease, stress, trauma, diet or hormones. Whatever the reason, hair loss can effect a person's overall self esteem so it's important to identify the cause and treat it accordingly. If you would like to come in for a free consultation, the doctor would be more than happy to diagnose your condition.
Androgenetic Alopecia (pattern baldness)
80 million men and women suffer from genetic hair loss which is called androgenetic alopecia. Androgenetic alopecia is hereditary baldness passed down from male or female relatives with balding or thinning hair. Male pattern baldness can be prevented in the vertex and crown with a DHT blocker. DHT blocker does not work in the frontal hair line and is not for women or children. The most effective permanent solution for androgenetic alopecia is hair transplantation.
Alopecia Areata (auto immune disorders)
Some diseases cause hair to fall out when white blood cells attack hair follicles. Some autoimmune disorders that cause alopecia areata include thyroid disease, lupus, vitiligo, ulcerative colitis and rheumatoid arthritis. With alopecia areata hair can fall out and re-grow again and again.
Cicatricial Alopecia (scarring)
Cicatricial alopecia is a rare form of hair loss. In hair loss caused by cicatricial alopecia, inflammation and scarring destroy the delicate hair follicles. Scars can occur from burns or injuries and it may also be caused from skin disorders such as lichen planus, fungal infections or lupus erythematosus.
Diffuse Pattern Alopecia (DPA)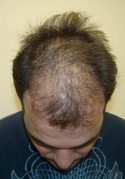 When the frontal hairline remains in tact but hair becomes thin in an even pattern everywhere except the safe zone which is the DHT resistant area on the sides and back of the head then diffuse pattern alopecia is present.
Diffuse Unpatterned Allopecia (DUPA)
When hair loss is evenly thin throughout the entire head, even in the safe zone, this is called diffuse unpatterned alopecia. Those with diffuse unpatterned allopecia do not have good donor hair and should not receive a hair transplant. To be sure of your situation, it is advisable to make a complimentary appointment to see Dr. Bolton for an accurate diagnosis.
Dihydrotestosterone (DHT)
A hormone called dihydrotestosterone or DHT is the cause of pattern baldness in both men and women. DHT is an androgen, a hormone responsible for the development of sexual characteristics. This hormone is produced more rapidly as a person ages and is created when testosterone and an enzyme called Type II 5-alpha Reductase are synthesized. For those who are genetically predispositioned to be affected by DHT, hair miniaturization can occur because of mucus buildup in the hair follicles.
Female Pattern Hair loss (androgenetic alopecia)
In female pattern baldness the frontal hairline often stays in tact while thinning or diffusing occurs throughout the rest of the head. Female pattern baldness is genetically inherited for those susceptible to DHT.
Male Pattern Baldness (androgenetic alopecia)
Male pattern baldness is the number one cause of hair loss in the United States. Passed down through genetics, male pattern baldness can be inherited through both the mother and the father. Typical male pattern baldness begins with a receding hairline or thinning crown that continues to thin over time until hair is very thin or completely gone everywhere except the safe zone. The safe zone is the horseshoe area on the sides and back of the head where hair follicles are resistant to DHT, a hormone that causes hair loss.
Phases of Hair Growth
anagen phase (growth phase)


A new hair grows from a hair follicle beneath the surface of the skin. The average hair will grow 1/2 inch (1cm) per month from 2 to 8 years.

catagen phase (transitional phase)

telogen phase (resting phase)
telogen effluvium (stress or shock)
Telogen effluvium is temporary hair loss due to stress or "shock" caused by physical or emotional conditions. Hair goes into a resting phase, growth is temporarily stopped, and hair falls out in clumps or patches. A wide range of causes can be attributed to telgen effluvium such as unusual weight loss, diet, disease, medicine side effects, emotional trauma, or nutritional deficiencies. If the causes are eliminated, hair usually starts to grow again within 6 to 9 months.

traction alopecia (scars from pulling hair too tightly)
When hair is pulled too tightly and the scalp becomes scarred, traction alopecia can occur. If the pulling is stopped soon enough the situation can be corrected otherwise scarring and hair loss may become permanent. Hair styles to be cautious about are pony and pig tails, braids and dreadlocks.
trichotillomania (hair pulling disorder)
Hair pulling disorder is a mental illness where people compulsively pull out their own hair and often hide the behavior with hats or wigs.
COMPILATION GALLERY VIDEOS
Apr 21, 2021

I want to start off first by giving a huge thanks to Dr. Bolton along with Josh and the entire GHT team! I can't thank you enough and put into words how much it means to me for what you have done to help my situation. What you do for people is such a great thing, truly the best in the business at this. I'm 26 years old I started losing my hair...

Jan 20, 2021

My confidence was shot; I always wore a hat when I went out in public and did not want to date because I was afraid the ladies would want to run their slender fingers through my slender hair. But that was before I met Hair Doctor Extraordinaire, Brett Bolton. He changed my hairline and it changed my life. I opted for the "Max Harvest" technique...

Jan 14, 2021

brett is hands down the best there is. i am a retired ER doc and had my first transplant nov 2018 with excellent results. i went back nov 19 for a repeat - you cannot cover a vacant lot with one load of sod - and now i have a full lawn. No one can do this kind of miracle except Brett and his full laen crew

Dec 24, 2020

I chose Dr. Bolton because of his excellent reputation. He did a great job. No pain. Easy recovery and I'm very pleased with my results. He filled in my receding hairline and crown. VERY natural looking hairline. He treats each hair follicle like it's his own baby and that's what makes for graft survival and great results. Great job. Thanks Dr. B!

Nov 4, 2020

It has been about 4 months since my visit and procedure with Doctor Bolton,and i must say i am very satisfied with results so far.. I am a 32 year old male,and for the past 3 years or so i noticed my hair becoming much thinner and weaker... And after so many failed attempts,remedies and false information,i finally came to realisation that hair...

Oct 2, 2020

I came to Dr. Bolton from Tampa, FL, and I would not regret it. I am 19 years old, and was very anxious and scared at first, but Dr. Bolton and his team made it very comfortable for me during the surgery. I am 4 months in and am already very happy for the results. He is one of the best in the business. Would definitely recommend him.

Sep 7, 2020

I am more than happy with the procedure I had with Dr. Bolton a few days ago. This is my third hair transplant and my only regret is that he didn't do the first two. He and his staff are extremely professional and accommodating, creating a very comfortable environment. I would highly recommend using Dr. Bolton. With Dr. Bolton's procedure, I...

Aug 31, 2020

Went in on June 2019 and I am now enjoying the fact that I never have to wear a hat ever again! Toons of compliments from co-workers, friends and family telling me that my hair looks longer or my hair is growing. Definitely a life changing procedure. Very helpful staff. Dr. Bolton and Josh are the greatest. They help you with everything. I wouldn't...

Aug 3, 2020

Very professional and happy with the results. I was impressed to learn that the only thing Dr Bolton does is hair transplants and only 1 per day!! You get his FULL ATTENTION for that whole day and procedure. He made me the VIP and studied my male pattern baldness for my best results. Very detailed where to cut, place hair and angles for front...


22 YEARS EXCLUSIVELY DEDICATED TO HAIR TRANSPLANTS WITH UNSURPASSED RESULTS
Excellent