We Received A Recent Testimonial Comparing Dr. Bolton to a well known national hair transplant clinic we'll call "Clinic B"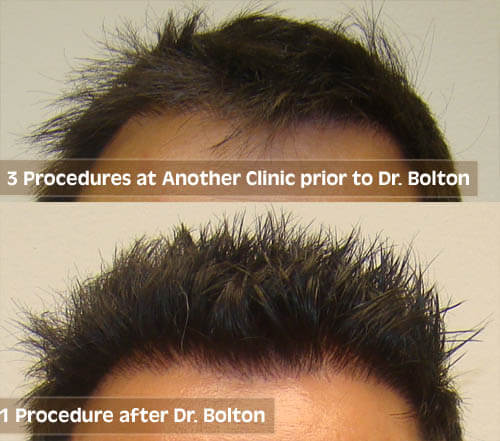 THICK FULL results
achieved with only one procedure with Dr. Bolton
Dear Dr. Bolton,
I want to thank you for making my hair look amazing again!  As I told you I had three procedures with Clinic B prior to coming to you.  The experience between you and Clinic B was night and day! After two procedures at Clinic B, I barely noticed any difference in my hairline at all.  They actually agreed with me, and decided to do the third procedure for free.  This third procedure still yielded horrible results. 
Then, I found you, and after one simple procedure, my entire hairline changed drastically.  Needless to say, I am angry that I ever went to Clinic B.  Not only did I get horrible results; however, the cost per procedure at Clinic B was quite a bit more expensive than yours. Aside from the results and the pricing differential, there were some other things that distinguished your procedure form theirs.  For one, after each procedure at Clinic B, I had large and painful ingrown hairs occur in the recipient area.  This lasted for months.  With your procedure, I did not get one ingrown hair! 
"zero swelling...not one ingrown hair... no sensation of stretched skin..."
Secondly, I recall that they injected a tremendous amount of water in my head with each follicle insertion.  As a result, my entire forehead swelled up after each procedure.  With your procedure, I recall much smaller amounts of water being injected, and I had absolutely zero swelling.
Thirdly, when they sutured my head, they pulled my skin very tight.  As a result I felt very uncomfortable every time I turned my head after the surgery.  They claimed this was normal and once the skin stretched on my head, everything would feel normal again.  They were right about this; however, it took about two months for this uncomfortable feeling to disappear.  On the other hand, with your procedure, I had absolutely no sensation of stretched skin whatsoever.
"you were able to repair the Clinic B scar..."
Finally, after healing, the sutured area at Clinic B left a large raised scar.  Being that I have short hair, this was a nightmare.  I was forced to keep my hair long in the back so people would not see the large scar they left behind.  With your procedure, there was no noticeable scar at all, and I was able to keep my hair as short as desired.  Thankfully, you were also able to repair the 'Clinic B scar' with some graphs to make this problem go away completely.
So, thanks once again to you and your extremely friendly and talented staff for a job well done.  I can honestly say you are one step ahead of your competition!
—S.B.