Hair Transplant Physician For Men & Women In Chattanooga, Tennessee
Is Your Hair Line Thinning? Get Dramatic Results With Hair Transplant Treatments
Millions of men and women complain about hair line thinning, feeling as if they have very few options. However, hair transplant treatments now offer men and women suffering with hair loss an option which can produce beautifully dramatic results.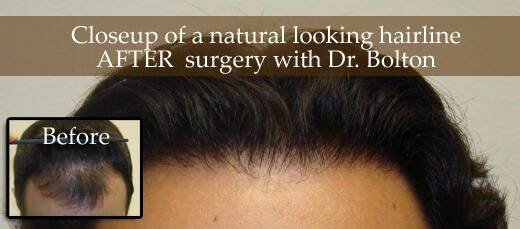 If your hairline is thinning, Dr. Bolton can restore your hair
and give you a completely natural looking hairline
How does hair line thinning hair transplant procedures work?
Hair restoration transplant procedures work by relocating bald resistant hair follicles from a donor area to the thinning hair areas of the scalp. It is typically a one day out-patient process which requires only local anesthesia. The process itself should be comfortable with only minimal (if any) discomfort during and after.
Will people be able to tell I've had a hair line thinning hair transplant treatment?
No. When done properly, a hair transplant treatment for hair line thinning will look so natural not even a professional stylist will be able to notice. Due to the follicular unit procedure, a patient can get very natural results because the procedure itself mimics the way a person's hair would naturally grow.
Who is a candidate for hair line thinning hair transplant procedures?
Both men and women can be great candidates for a hair transplant procedure. Those experiencing hair loss, balding, hair line thinning or classic male pattern baldness can benefit form a hair transplant. Certain patients might get more dramatic results than others, depending on the characteristics of their hair. To ensure you are a viable candidate for a hair line thinning hair transplant procedure, it's important to contact a professional and have an evaluation performed. The hair transplant doctor will be able to tell you what you can expect in terms of results and if you're a viable candidate for a hair transplant.
To schedule a personal consultation on hair transplants or to get more information on hair line thinning procedures, Dr. Bolton's staff would be happy to assist you.
COMPILATION GALLERY VIDEOS
Jun 17, 2021

I had a procedure with Dr. Bolton in December of 2021. I had had 2 procedures with other clinics, with little results. The "Big name" clinics are way overpriced for what you get. When you go to the clinics who do a lot of advertising, the consumer tends up paying for it. Dr. Bolton moved more hair in one procedure than the two previous procedures...

Jun 16, 2021

Dr. Bolton and his team were A1 throughout the entire process. Michael was my liaison and treated me like family. Everyone was friendly and professional. Most importantly, Dr. Bolton and his team were honest and direct about strategy and expectations which led to great results! Very personable group who stand by you every step of the way with...

Jun 11, 2021

A doctor's perspective: As a doctor myself I search out the best and most highly skilled medical professionals for me and my patients. Dr Bolton's techniques are highly innovative and his skill is evident in the invisible scar left post surgically on my scalp. He artistically created a natural hairline and his Bolton bundle technique filled in the...

Jun 3, 2021

I don't even know if I should be writing a review as the world will now know that I had hair transplant surgery. Dr. Bolton is a true artist and no one can tell that I had hair transplant surgery. I was lucky to get the surgery in late January prior to the COVID, and I want to thank the entire team to accommodate me on such a short notice. Post...

May 30, 2021

I have had two hair transplants with Dr. Brett Bolton at Great Hair Transplants in Fort Lauderdale, FL. Both times were life changing! Before seeing Dr. Bolton, I had already been experiencing significant hair loss since age 23 (2009). By the time I decided to see Dr. Bolton for a hair transplant I was a Norwood 5\6 with no hairline and major loss...

May 26, 2021

I had my hair transplant with dr Bolton about a year in a half ago and I'm so happy with my results. It has really boosted my confidence. I get so excited when I look in the mirror Sometimes. If your thinking of a hair transplant your in good hands with dr Bolton and his staff. They are so nice and josh has always been there to answer any questions...

May 21, 2021

The best decision I have ever made. After 6 months my hair looked amazing I'm getting tons of compliments. Also Dr. Bolton and his staff are amazing. I thought it was going to be a hard and painful procedure but was easy and the the doctor and his staff made it so comfortable for me. I recommend Dr. Bolton.

May 17, 2021

I have been to Dr Bolton a couple of times for extensive work on my head and the times that I went Dr Bolton and his staff have been fantastic They made me feel comfortable and did a great job on my head now I have a full head of hair and I got my confidence back thanks Dr Bolton , Josh and staff for everything Al Corricelli

May 17, 2021

Dr Bolton is one of a kind when it comes to hair transplantation. I have seen his work first-hand and recommend him all the time to anyone looking to regain their youthful hairline. I haven't met another hair transplant expert who transfers so many hairs in one sitting. His results are natural, thick, and without comparison. As a cosmetic surgeon...

May 5, 2021

Dr. Bolton and Josh are extremely professional and communicative. I have been dealing with both of them for many years and looking forward to maintain the relationship moving forward. The offices are great and the environment and professionalism makes me feel very comfortable every time I visit them.


22 YEARS EXCLUSIVELY DEDICATED TO HAIR TRANSPLANTS WITH UNSURPASSED RESULTS
Excellent