Women's Hair Loss Solutions In Harrisonburg, Virginia
Laser Comb Prevents Future Hair Loss!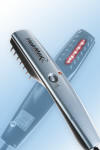 HairMax Laser Comb uses the latest technology, "Photo-Biostimulation" to improve blood circulation and stimulate hair growth over time. This revolutionary comb promotes hair follicle rejuvenation which creates stronger, healthier, shinier hair that is more manageable and thicker.
Price: $475 includes shipping & handling


COMPILATION GALLERY VIDEOS
Oct 2, 2020

I came to Dr. Bolton from Tampa, FL, and I would not regret it. I am 19 years old, and was very anxious and scared at first, but Dr. Bolton and his team made it very comfortable for me during the surgery. I am 4 months in and am already very happy for the results. He is one of the best in the business. Would definitely recommend him.

Sep 7, 2020

I am more than happy with the procedure I had with Dr. Bolton a few days ago. This is my third hair transplant and my only regret is that he didn't do the first two. He and his staff are extremely professional and accommodating, creating a very comfortable environment. I would highly recommend using Dr. Bolton. With Dr. Bolton's procedure, I...

Aug 31, 2020

Went in on June 2019 and I am now enjoying the fact that I never have to wear a hat ever again! Toons of compliments from co-workers, friends and family telling me that my hair looks longer or my hair is growing. Definitely a life changing procedure. Very helpful staff. Dr. Bolton and Josh are the greatest. They help you with everything. I wouldn't...

Aug 3, 2020

Very professional and happy with the results. I was impressed to learn that the only thing Dr Bolton does is hair transplants and only 1 per day!! You get his FULL ATTENTION for that whole day and procedure. He made me the VIP and studied my male pattern baldness for my best results. Very detailed where to cut, place hair and angles for front...

Aug 3, 2020

Have been receding since a teenager. At the age of 23, I scheduled a last minute procedure with Bolton and extremely happy with the result (8,000 hairs moved). I am only at 4.5mos post-op (Full results are typically at 12mos). Josh was my patient advisor and provided me with realistic expectations and answered all of my questions. Procedure is...

Jul 13, 2020

I had my HT procedure on June 30, 2020. Both Josh and Dr. Bolton were amazing! It's only been 2 weeks and I'm satisfied. The procedure was painless, it was like i went to a barbershop actually. the scar in the back of my head is barely noticeable even when i shave the back of my head. I am patiently waiting for my hair to grow. I highly recommend...

Jul 3, 2020

My experience with Dr Bolton and Josh has been amazing. I came to Dr Bolton as a very skeptical patient. After years of been scammed by one company after another promising that they "had the cure", I honestly didn't think anything would work. Dr Bolton and Josh were very upfront and honest with me from the very beginning. The surgery and...

Jul 3, 2020

I loved my experience with GHT! I got the (FUT) "Max Harvest Plus" because I was a (Norwood 6). I am completely blown away by the results which changed my appearance and gave me more confidence. Dr. Bolton, Josh, and the entire GHT team are very friendly and professional. There was no pain during the procedure and the whole thing was over...

Jul 3, 2020


22 YEARS EXCLUSIVELY DEDICATED TO HAIR TRANSPLANTS WITH UNSURPASSED RESULTS
Excellent