Robotic Hair Transplant In Normal, Illinois
What is A Multiple Follicular Unit Graft?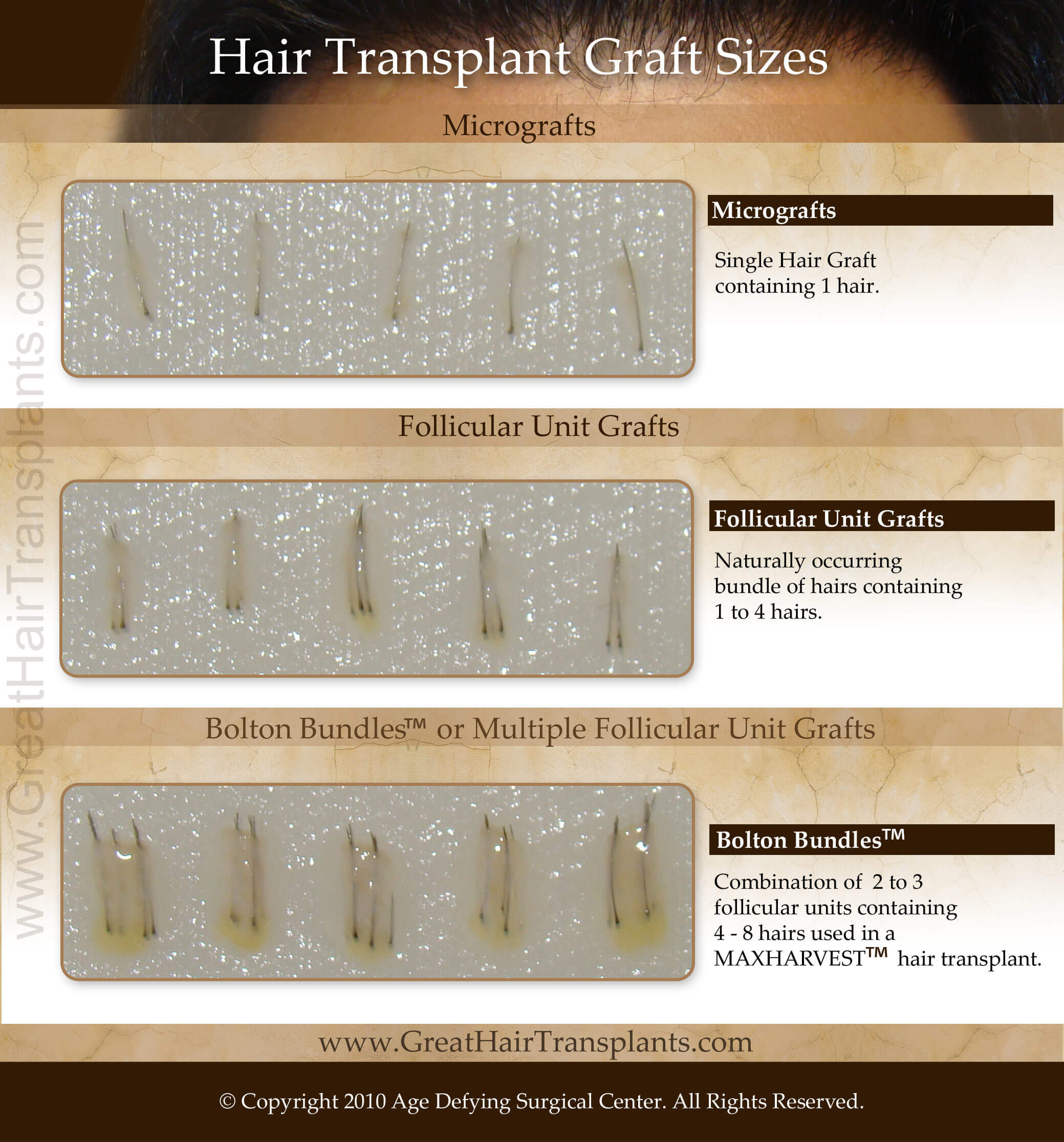 A 'micrograft' contains one hair.
A 'follicular unit graft' is a naturally occurring 'bundle of hairs' containing 1 to 4 hairs.
A 'Bolton Bundle' or 'multiple follicular unit graft' is a graft that contains 'more than one follicular unit' and has 4-8 hairs. These are NOT hair plugs but instead are slit grafts harvested using the same technique as follicular units. There are GREAT ADVANTAGES to using this PIONEERING TECHNIQUE.
Most hair transplant doctors do not use anything other than micrografts and follicular units. There are, however, a few pioneering doctors who have developed and perfected the use of multiple follicular unit grafts. Dr. Bolton is one of those pioneers. Because his goal is to achieve the best possible outcome for the patient, he developed a multi-follicular unit grafting technique that yields 2-3 times more hair in just One Procedure with more natural results. This is good news for those seeking hair restoration because more density means less surgeries and less cost to the patient.
Bolton Bundles
™

ARE more natural looking

When larger grafts are artistically placed behind the frontal hairline, the outcome is amazing. 4-8 hair bundles preserved and moved in their naturally occurring state are guaranteed to look 'more natural' because they ARE more natural. Using larger bundles speeds up the surgery and insures that delicate tissue is less likely to be damaged during transplantation because there are fewer separations.

Natural Looking hair transplants
are virtually undetectable
There is no need to get 3 or 4 surgeries to acheive the look you've dreamed about. If you want more hair and a natural looking result that can't be beat, contact our office about getting a free consultation today!
COMPILATION GALLERY VIDEOS
Jun 9, 2022

I saw Dr Bolton for hair loss. I have done 2 procedures and the results has been amazing. I have a previous surgery before at a location in Texas, which did not give me good results, I end up with a bad scar and very few good grafts. When I consult Dr. Bolton I knew my case was gonna be difficult and I did no have any big expectations as far of...

Jun 1, 2022

I had a max harvest plus procedure with Dr. Bolton about 10 months ago and my results are already amazing! (Still have 8 months to go!) I elected to try to get as much hair as possible that he felt safely pulling from my scalp was told about 13,000 hairs. It's a huge difference then before I was balding very lil hair now I have a lot of curly hair...

May 26, 2022

I went to Dr Bolton for a great hair transplant! I wanted to get the most hair I could in one procedure. I had a procedure years ago and now at Bosley they could not do as much coverage I needed. It would cost a lot more for multiple procedures which is hard on your hair and your life. I wanted to do just one!. Josh the hair specialist gave me...

Apr 21, 2022

I was apprehensive going into this but I'm glad I did it! I live in CT near New York City and there are a few places in NYC with good reputations that I had looked into for hair restoration but in the end it was Dr. Bolton that I chose. I had to travel to get the procedure done but I'm completely thrilled with results. Dr. Bolton is great! He...

Apr 8, 2022

Great experience and results! Dr. Bolton and staff are amazing! If you are thinking about getting a hair transplant don't go anywhere else. Dr. Bolton will give honest expectations and outstanding results. His whole team is great and I couldn't be happier with my results. I have had a procedure with Bosley and Dr. Bolton blew them away with the...

Mar 30, 2022

My experience with Dr. Bolton and his staff was excellent. I initially had contact with Mike Anticoli who answered many questions I had about my condition and the possible treatment options. Mike was great from start to even today, months after treatment. They both did follow up calls to me after the procedure. Mike was in contact with me daily for...

Mar 23, 2022

So far, so good! Had my hair transplant last October. Been in contact with Josh, Dr. Bolton's correspondent, since day 1. Can't recommend either of them highly enough. I'm currently only at 5 months but my hairline has already dramatically improved and I'm seeing lots of new hairs popping up. I'll keep everyone updated as the months progress. I'...

Mar 23, 2022

I had a Max harvest plus procedure with Dr Bolton in October 2020. I had anxiety about the strip being taken out before the procedure, but I can confirm that it does not hurt whatsoever. Dr. B is highly skilled with the scalpel and uses a perfect amount of local anesthetic so there is no discomfort at all when the strip is being taken out. Dr B...

Mar 21, 2022

First let me start off by saying getting a hair transplant is not something anyone should be ashamed of male or female. This like any cosmetic surgery is to help with your self esteem and at the end of the day that's all that matters not someone else's opinion. When you do decide to go on that adventure, please do your research and consider Dr....
25 YEARS

EXCLUSIVELY DEDICATED TO HAIR TRANSPLANTS WITH UNSURPASSED RESULTS

Excellent