Robotic Fue Hair Transplant In Plymouth, Minnesota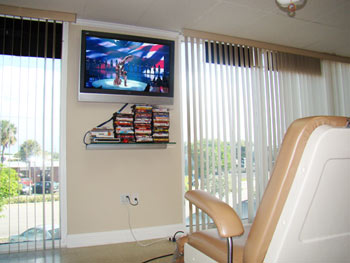 Enjoy a movie in a spacious surgery room while your hair line is transformed!
Is a Hair Transplant Surgery Painful?
If you are wondering whether or not there is pain during or after surgery, you are not alone. It is very common for patients to be nervous on the day of their procedure due to the anticipation of how the hair surgery might feel.
Will I Be Conscious?
At Dr. Bolton's facility, hair restoration is a simple out-patient procedure that is performed in a very relaxing surgery room designed with your comfort in mind. You are awake for the entire procedure and as soon as your surgery is underway, you will realize that it was not as daunting as you perceived it might be.
Generally, hair transplantation should not be painful. The initial anesthesia can cause minimal discomfort but should only be slight to moderate. Some tender scalps can find it painful but this should end quickly as the anesthesia kicks in. Most people say a common cold sets them back more than the procedure and many will experience no pain or discomfort at all.
Pain After Surgery
Pain after surgery is also minimal. Following the procedure, during recovery time you may experience some tightness or tenderness along the suture line, but that should soon subside. It is so minimal, that many people return to work the next day if their job does not involve strenuous activity.
5 Big Hair Transplant Questions
Is their pain during or after surgery?
Will transplanted hair fall out eventually?
How long does the surgery take?
COMPILATION GALLERY VIDEOS
Aug 3, 2020

Very professional and happy with the results. I was impressed to learn that the only thing Dr Bolton does is hair transplants and only 1 per day!! You get his FULL ATTENTION for that whole day and procedure. He made me the VIP and studied my male pattern baldness for my best results. Very detailed where to cut, place hair and angles for front...

Aug 3, 2020

Have been receding since a teenager. At the age of 23, I scheduled a last minute procedure with Bolton and extremely happy with the result (8,000 hairs moved). I am only at 4.5mos post-op (Full results are typically at 12mos). Josh was my patient advisor and provided me with realistic expectations and answered all of my questions. Procedure is...

Jul 13, 2020

I had my HT procedure on June 30, 2020. Both Josh and Dr. Bolton were amazing! It's only been 2 weeks and I'm satisfied. The procedure was painless, it was like i went to a barbershop actually. the scar in the back of my head is barely noticeable even when i shave the back of my head. I am patiently waiting for my hair to grow. I highly recommend...

Jul 3, 2020

My experience with Dr Bolton and Josh has been amazing. I came to Dr Bolton as a very skeptical patient. After years of been scammed by one company after another promising that they "had the cure", I honestly didn't think anything would work. Dr Bolton and Josh were very upfront and honest with me from the very beginning. The surgery and...

Jul 3, 2020

I loved my experience with GHT! I got the (FUT) "Max Harvest Plus" because I was a (Norwood 6). I am completely blown away by the results which changed my appearance and gave me more confidence. Dr. Bolton, Josh, and the entire GHT team are very friendly and professional. There was no pain during the procedure and the whole thing was over...

Jul 3, 2020

Jul 3, 2020

Had my procedure done about 8 months ago with dr bolton and his staff. Absolutely INCREDIBLE results. They are true artists and place every hair with a purpose. My results look so natural that my own mother and father didnt even notice! I would HIGHLY recommend these guys to anyone who is unsure about getting a transplant. True proffessionals,...

Jul 3, 2020

My experience with Josh, Dr. Bolton and his whole team were amazing. I had a max harvest about a year and a half ago and I am so thrilled with the results. Recovery was easy and the hair just grew. Even after the surgery , Dr Bolton called me to make sure everything was fine. I would highly recommend Dr Bolton to anyone who is considering a hair...


22 YEARS EXCLUSIVELY DEDICATED TO HAIR TRANSPLANTS WITH UNSURPASSED RESULTS
Excellent