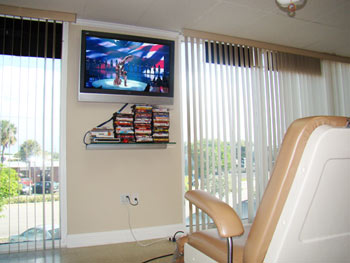 Enjoy a movie in a spacious surgery room while your hair line is transformed!
Is a Hair Transplant Surgery Painful?
If you are wondering whether or not there is pain during or after surgery, you are not alone. It is very common for patients to be nervous on the day of their procedure due to the anticipation of how the hair surgery might feel.
Will I Be Conscious?
At Dr. Bolton's facility, hair restoration is a simple out-patient procedure that is performed in a very relaxing surgery room designed with your comfort in mind. You are awake for the entire procedure and as soon as your surgery is underway, you will realize that it was not as daunting as you perceived it might be.
Generally, hair transplantation should not be painful. The initial anesthesia can cause minimal discomfort but should only be slight to moderate. Some tender scalps can find it painful but this should end quickly as the anesthesia kicks in. Most people say a common cold sets them back more than the procedure and many will experience no pain or discomfort at all.
Pain After Surgery
Pain after surgery is also minimal. Following the procedure, during recovery time you may experience some tightness or tenderness along the suture line, but that should soon subside. It is so minimal, that many people return to work the next day if their job does not involve strenuous activity.
5 Big Hair Transplant Questions
Is their pain during or after surgery?
Will transplanted hair fall out eventually?
How long does the surgery take?